The basic economic principle of buying assets at a low price and selling them at a higher price is easy to understand. However, applying this principle in practice can be more difficult. This requires you to constantly monitor the market and act quickly when the price reaches the desired level.
Futures contracts have been used to varying degrees for several hundred years to facilitate profits, but they have only been used for trading the financial markets for a few decades. Futures grid trading bots are now taking the use of futures contracts to the next level.
What are futures grid trading bots?
Bots for trading on the futures grid - these are automated systems that regulate futures trading activity based on a grid trading strategy in which a set of orders is placed both above and below a certain underlying market price of an asset. More precisely, this strategy automatically executes trades that the investor has planned in advance, based on the set parameters.
Many investors are emotionally attached to money. Their investment decisions may be driven by greed, regret, and/or other strong emotions. Even an investor with a sound strategy in mind can be led astray by these emotions. Futures trading is based on the use of leverage, so even a slight change in the price of a commodity can dramatically affect the capital available to an investor. By automating transactions, trading bots help investors separate their emotions from strategy and activity.
How do futures grid trading bots work?
Futures trading bots can be used to trade rising, falling, flat or sideways markets, depending on the mode or strategy being used.
Trading long futures can make a profit when the price stays the same or rises; the trading bot will create a position to buy part or all of the invested funds. It will then gradually close out the investor's position by placing grid orders.
Trading short futures is profitable if the price stays the same or goes down. The trading bot will create a sell order for some or all of the funds invested. Grid orders will be executed gradually. The process of automated trading in both long and short futures can be repeated by the grid bot.
Depending on the settings and capabilities of the futures grid bot you have chosen, you can set the trading leverage. This will allow you to potentially optimize profits. However, using leverage when trading futures can also cause losses. You can reduce risk and loss by carefully researching and choosing products.
Benefits of Using Bots for Futures Grid Trading
There is no need to use futures grid trading bots to benefit from futures trading. This process can be completed manually at your discretion. However, after learning about the important benefits that futures grid trading bots provide, you can understand why many experienced investors choose to use them.
Eliminates decision-making under the influence of emotions
Emotionally driven investment decisions can drastically reduce your profitability. For example, out of fear, some investors may be hesitant to take advantage of a great opportunity they have identified. Others may make poor buying or selling decisions based on greed. Bots for trading futures grids are automated according to the settings you pre-set. Using them, you can be sure that your well-thought-out trading plan will be executed as intended, without getting emotional.
Prevents the need to perform repetitive tasks
Many aspects of futures trading are tedious and repetitive. For example, to profit from market volatility, you need to do the calculations to determine the limit for each order and then manually place the order. However, with a futures grid trading bot, the bot will quickly do all the calculations, follow the market, and place orders. Thus, it removes investor fatigue or boredom from the equation for profit optimization. Futures grid trading bots are designed to be easy to use and highly customizable so that your trading strategy can be effectively implemented.
saving of time
The cryptocurrency market is open around the clock, every day of the year. Continuous monitoring is required to identify and seize opportunities. Unfortunately, an investor cannot constantly monitor the market. Futures grid trading bots will work for you 24 hours a day so that you do not miss out on potentially profitable opportunities.
Opportunity to increase profits
With futures grid trading bots, you can trade with leverage, a feature that other types of bots do not offer. Leverage allows you to borrow a multiple of your investment, allowing you to open a much larger position. This gives you the opportunity to increase profits with relatively little capital.
The best bots for futures grid trading
The futures grid trading bot you use can impact your trading experience in a number of ways. For example, it may affect your ability to leverage your trades. It may also restrict your trading activities to certain assets. Let's take a look at some of the more popular futures grid trading bots.
Bybit Futures Grid Bot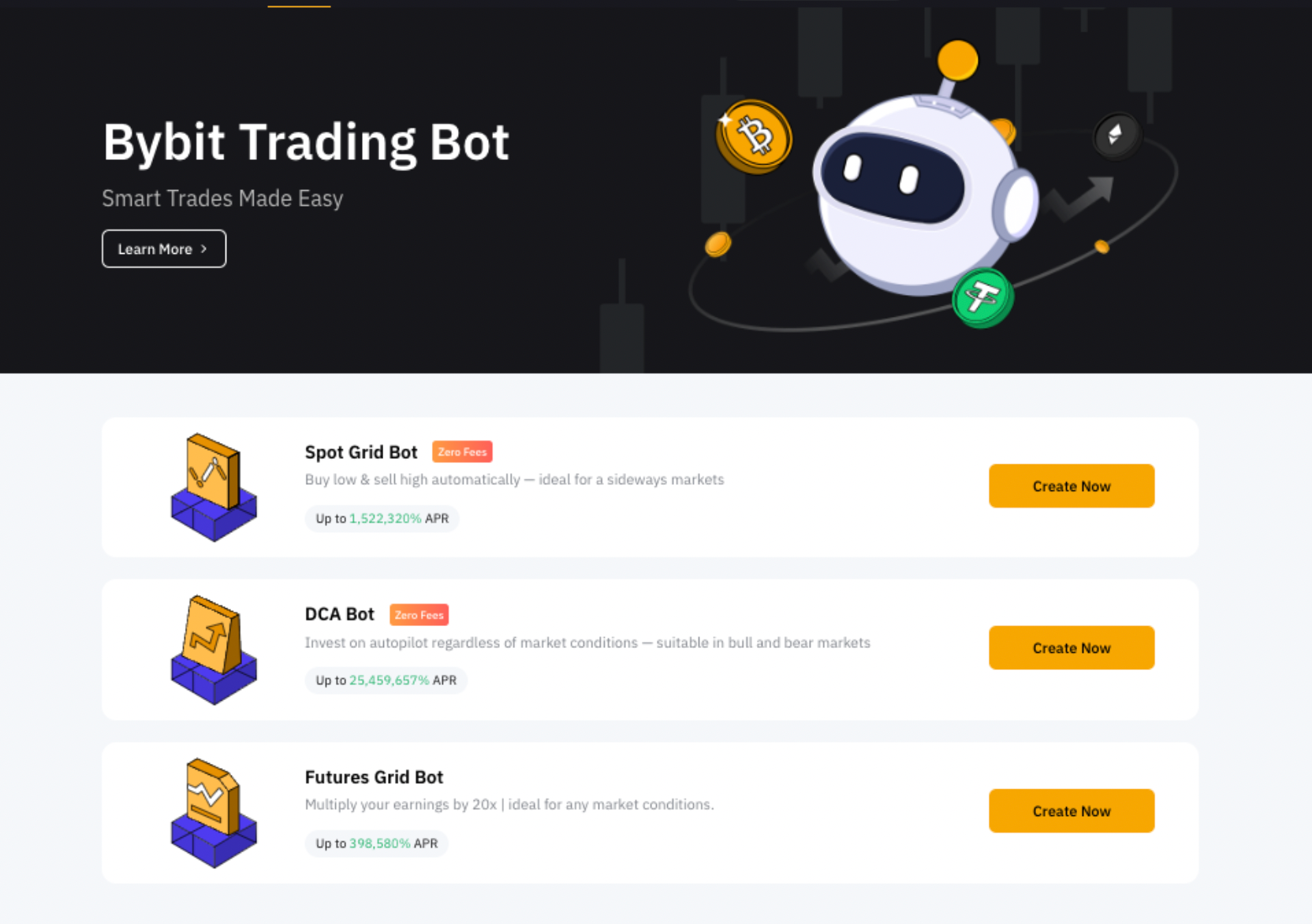 Bybit is one of the leading derivatives exchanges known for maintaining low slippage and high liquidity. Bybit Futures Grid Bot is one of the most well-designed and functional futures trading bots, offering a clean, easy-to-use interface that is equally well suited for newbies and more experienced futures traders alike.
Its many features, available through both the app and the desktop platform, are provided for free. Its automated platform has been designed for use on the Bybit exchange and offers three trading modes. In particular, you can set parameters for long, short and neutral positions. In addition, up to 20x leverage is available to support higher returns.
pionex
pionex provides its users with 16 free built-in trading bots that meet different risk requirements. Notably, Pionex charges a standard 0,1% commission on all leveraged trades. In addition, the company offers the Leveraged Grid Bot. However, the amount of available leverage depends on several factors.
bitsgap
bitsgap is a paid bot for futures grid trading. Three available plans: Basic, Advanced and Pro, ranging from $23 to $119 per month. The plan you choose imposes a limit on the number of active bots available to you, with a maximum of 20 for the most advanced and expensive plan. The free trial is available for seven days. The platform is available exclusively via desktop, there is no mobile app. Using the desktop platform, you can customize settings, track bot activity, and manage your account.
Binance
Binance offers grid trading bots for futures and spot trades. It features a simple account setup process and its bots are available for free. This platform works with over 600 popular cryptocurrencies. While this platform offers high leverage for automated futures trading, it is important to note that there are greater risks with higher leverage. For this reason, only experienced futures traders should use this feature.
KuCoin
Cryptus Exchange KuCoin offers traders multiple pair options and five trading bots, including a futures trading bot and a spot grid trading bot. Although futures grid trading bots are available for free, there is a maker fee of 0,02% and a taker fee of 0,06% that can eat into your profits. Limited leverage is available, which varies depending on the trading pair.
BingX
BingX provides its users with both a futures bot and a bot for trading on the spot grid. It provides an easy to use trading interface and more sophisticated candlestick charting. There are many trading pairs available. However, be aware that there is a protection period for new users, during which some pairs are capped at 10 USDT.
BingX charges its users various fees, including withdrawal fees, conversion fees, standard futures trading fees, and perpetual futures trading fees. The maximum leverage available for trading cryptocurrencies is 50x, but it varies considerably between pairs.
xnumxcommas
xnumxcommas is a trading bot that offers three paid plans, as well as the availability of both a mobile app and a web platform. The Pro plan has a reasonable annual fee of $49,50 and has no limits on grid, options or DCA trading bots. There is also a free plan that only offers one grid trading bot.
Trading strategies are configured based on 20 indicators. The platform supports trading on 18 exchanges. When a transaction is completed, a notification is automatically sent to the user. Although there is an annual fee, there are no commissions. Leverage is only available up to 3x.
HAL
HAL - formerly known as Napbots - supports activities on Kraken, Binance and other popular platforms and is only available through its website. A free trial is offered for the first 15 days. Thereafter, investors must pay a monthly fee of $19,50 to continue using the HAL trading bots. It is important to note that HAL only allows trading up to $100.
coinrule
coinrule offers traders several paid plans as well as a free option. The free plan for its cryptocurrency grid trading bots offers seven template strategies. The most advanced paid plan, on the other hand, has unlimited template strategies, charting options, and tutorials, and is available for around $450 per year. This platform currently supports customization of over 150 templates and more will be added soon. Twelve exchanges are supported. In addition, the amount of leverage depends on the pairs.
Should You Try Futures Grid Trading Bots?
While trading can be very lucrative, it comes with a number of risks and challenges. For example, it requires traders to constantly monitor the markets, and cryptocurrency markets (unlike traditional financial markets) are open 24 hours a day, every day of the year. It is necessary to constantly carry out calculations. In addition, emotions can distract traders from their strategies.
Bots for trading futures grids can be configured to automatically execute your trading strategy. They monitor the market and act automatically based on pre-set triggers. Thus, they take emotions out of the equation. They also eliminate the need to constantly monitor the market and make complex calculations.
Сonclusion
Automated trading using futures grid trading bots offers extensive benefits. While any trading activity comes with risks, trading bots mitigate those risks – and can bring you big profits. If you have been looking for the best way to manage your crypto trades, then you might want to check out one of the best futures grid trading bots available today.