A cryptocurrency widget or tracker will help you monitor the market situation in real time, right on the desktop of your PC, both on Windows and on Mac. This monitoring takes place right on my desktop, in the form of a nice widget for cryptocurrencies) Plus, there are all sorts of settings when the widget signals you that the price of a crypto has reached a predetermined level, or, on the contrary, has fallen to the bar when it is time to drain it. All recalculations take place every second in real time.
Widgets that deserve your attention:
1. Mammon - the best cryptocurrency widget according to the editors
Better watch the video immediately:
More 700 + coins
Cryptocurrency prices in 30 + fiat currencies
Customizable menu bar view and many other settings
Reminders and notifications
Set a goal and set up a reminder. Mamon will tell you when the price reaches your goal.
Portfolio
Even if you are just planning or are already investing money in different coins, look at how much money you have in your pocket.
The second widget, no less interesting, but upset that it must be constantly restarted with any changes in settings:
2. BitTab- a cryptocurrency widget with a paid Pro version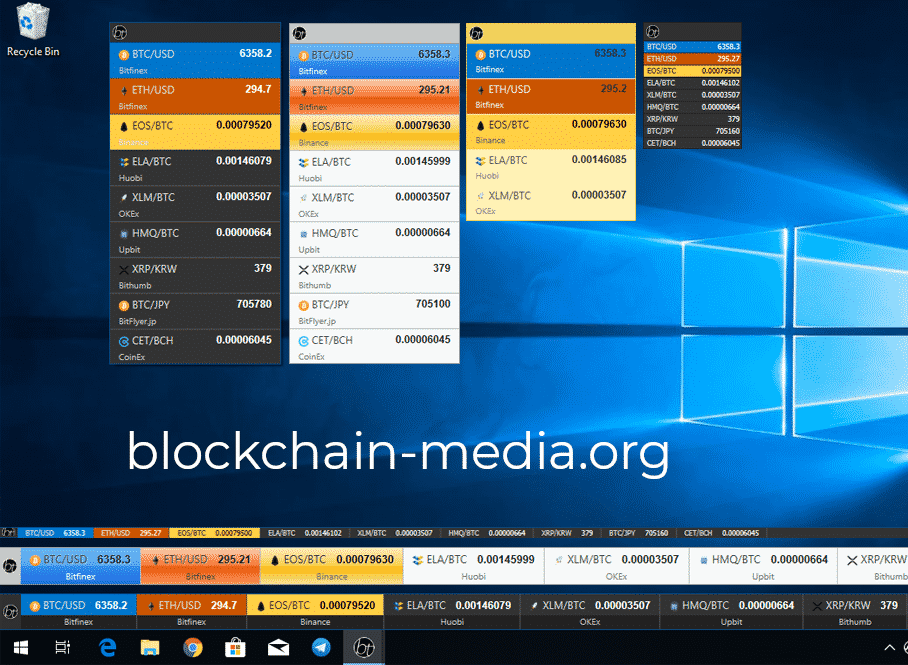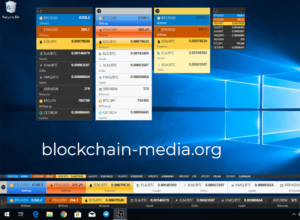 BitTab is one of the most popular ticker (widget) options in cryptocurrencies for Windows. It combines a simple yet intuitive design to bring ever-changing cryptocurrency market prices to your desktop.
BitTab is not intrusive. After installation, a ticker (widget) will be located above your taskbar, updating the prices of cryptocurrencies that you set. A wide range of cryptocurrencies is available. It presents more than 4000 coins at prices of more than 40 of the most popular cryptocurrency exchanges.
You can also use BitTab for arbitrage trading opportunities - if you're fast! The app also has price alerts for your important coins, as well as built-in calculators and converters.
BitTab is even very customizable. You can change color schemes, layouts, and more to make BitTab fit your desktop design.
Download: BitTab for Windows (is free)
3.Moonitor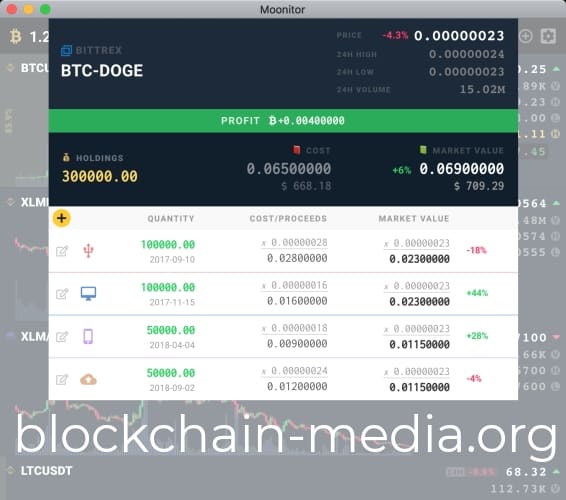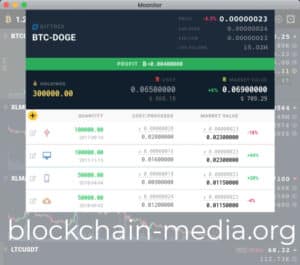 Moonitor is a premium cryptographic app available for Windows, macOS and Linux.
You can use Moonitor to display cryptocurrency markets on your desktop in the form of a basic ticker (widget) or in the form of a more extensive cryptocurrency chart.
Once installed, Moonitor provides real-time price updates using Bittrex and Binance data. The Moonitor development team is about to add more sharing features in future updates. In addition, Moonitor can also keep track of your convertible currencies, showing you how much your crypto holdings are worth in real time.
One of the benefits of Moonitor is its cross-platform compatibility. Your experience is very similar in the main operating systems, which is useful for those who regularly switch between hardware.
This, however, is a premium ticker (widget). Moonitor offers a free trial version that allows you to view up to eight cryptocurrencies, track five investments or pairs, with real-time market updates. The paid version of Moonitor opens all currencies, unlimited investments or pairs, and allows you to install Moonitor on three different devices.
Premium Moonitor (known as "Moon Explorer") will cost you about 25 dollars.
4. Coin Tick- cryptocurrency widget for Mac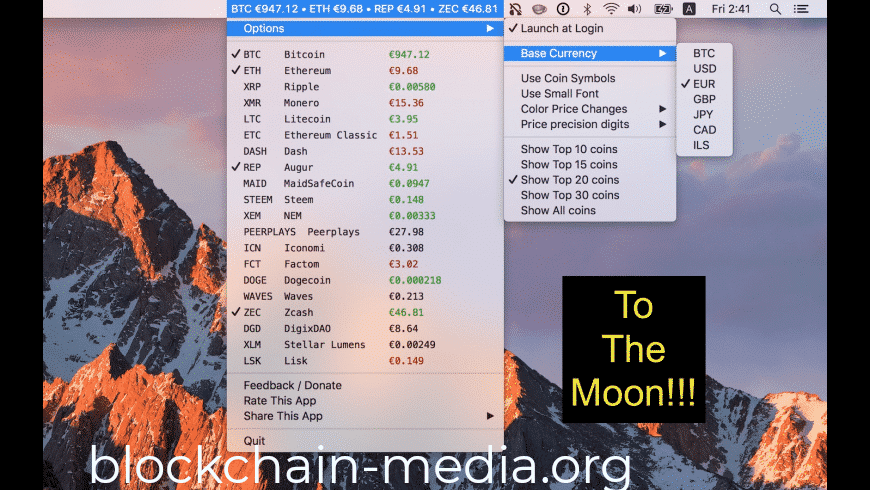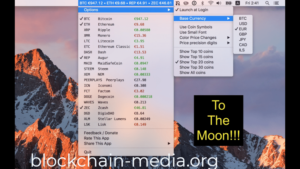 Coin Tick is a macOS cryptocurrency ticker widget that displays the current price in the menu bar.
It integrates seamlessly with macOS; You will not have a bright set of icons or charts that darken your desktop. Rather, prices scroll nicely across the menu bar and are updated at your discretion.
If you click on the Coin Tick menu bar, a full list of Coin Tick cryptocurrency prices will open. With more than 2000 different coins available, you can set your favorite cryptocurrencies to be displayed first or go deeper into the lists.
There are other configuration options. You can change the default default currency, display order, number of coins displayed ticker (widget) om, and much more.
Overall, Coin Tick is a great minimalistic ticker (widget) for macOS.
Download: Coin Tick for MacOS (is free)
5. Rainmeter cryptocurrency tickers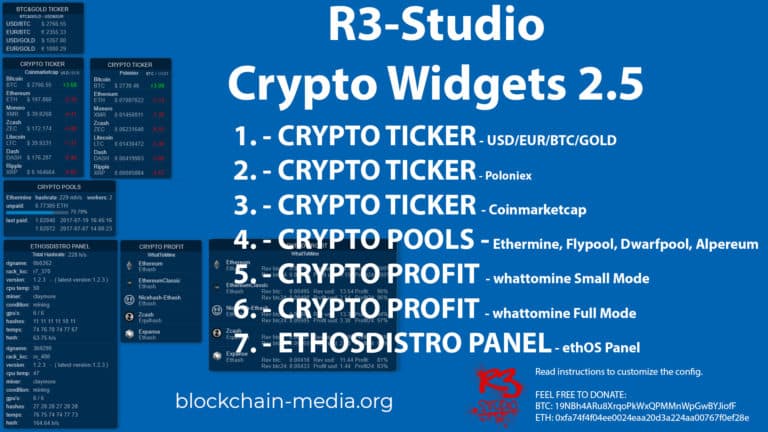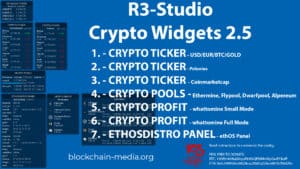 A slightly different look at the ticker cryptocurrency widget for desktop computers is provided by the Rainmeter desktop setup tool.
Using Rainmeter, you can add a huge number of customizable desktop elements, usually tracking information about system hardware, such as CPU usage, RAM usage, network connection data, etc.
There are several cryptocurrency ticker widgets for Rainmeter. One of the best things about using the Rainmeter widget is the level of customization available. Depending on the widget, you can add cryptocurrencies, change colors, add data, daily charts, trading periods, comparison of conversion rates and much more.
Finding the perfect ticker (widget) for Rainmeter cryptocurrencies may take some time. Here are three options to get you started:
R3-Studio Crypto Widgets: there are several types of cryptographic ticker (widget) s, market capitalization and much more.
Gadgets Additions: includes up to ten cryptocurrency tickers (widgets) with market capitalization ratings, as well as icons that change color when prices change.
Cryptocurrency tracker: has modular cryptocurrency ticker (widget) s, allowing you to select the prices of coins that you want to follow.
Download: Rainmeter for Windows (is free)
5. Cryptocurrency Price Ticker - Cryptocurrency Widget (Rainmeter skin)
Cryptocurrency Price Ticker allows you to add a single price widget for any cryptocurrency to your Windows or Linux Mint desktop.
Each cryptocurrency ticker (widget) displays an icon, short name, current rating by market capitalization, as well as hourly, daily and weekly percentage changes.
The Windows version of Cryptocurrency Price Tracker is a Rainmeter skin. You can install it using Rainmeter and then configure the ticker (widget) parameters of the cryptocurrency.
The version of Cryptocurrency Price Tracker for Linux Mint is a complete application. You can install and manage the Cryptocurrency Price Tracker using the "Desktop Management" window in Linux Mint.
You can find complete information about the installation on the Price Tracker cryptocurrency website. Cryptocurrency Price Ticker is free and open source.
Download: Cryptocurrency Price Tracker for Windows (Rainmeter Skin) | Linux Mint Desklet (Is free)
6. Crypto Price Widget
Crypto Price Widget is an open source, customizable cryptocurrency ticker widget.
Available for both Windows and MacOS, it is updated every five seconds to update the cryptocurrency market data. You can track almost any cryptocurrency using one of the 20 most traded paper currencies.
Crypto Price Widget is a simplified approach to a desktop cryptocurrency widget. That's what makes it great!
Download: Crypto Price Widget for Windows | MacOS (both free)
Choose the best:
If you need a comprehensive cryptocurrency ticker (widget) for your desktop, BitTab is one of the best options. It's free, customizable, and features thousands of coins from multiple exchanges. However, there are other options as well. Many of the single developer options, such as the Crypto Price Widget, offer an excellent open source experience, with more options to come.
Try a few cryptocurrency ticker (widget) on the desktop and see what meets your requirements. You may find that the interactive Rainmeter skin suits you more than a regular cryptocurrency ticker (widget)!