You are here because you are looking for software solutions to improve your cryptocurrency mining performance, and here is some useful information for you. If you use a system in the form of a desktop PC or a farm based on video cards, then the utility Polaris Bios Editor (PBE) will help you modify equipment for maximum efficiency.
Download Polaris BIOS Editor 1.7.6

Analogues:
Before you start
There are a number of special programs with the help of which the timings of the BIOS video cards are adjusted, which allows overclocking the GPU to simplify and speed up the mining process and make it more efficient. This software includes Polaris Bios Editor (PBE) version 1.7.6. We warn you that the manufacturer has the right to void your warranty, if suddenly your video card breaks due to an incorrect flashing, we recommend that you follow all the recommendations and instructions so that this does not happen.
Polaris Bios Editor for Dummies
Polaris Bios Editor (PBE) is a program for manual BIOS settings - changing GPU timings, running on the Polaris architecture. Specifically, the utility allows you to modify the operating parameters of the video card (timings, GPU frequency, core voltage and other useful characteristics), which makes Mining more productive, which means more profit per unit of time.
PBE is compatible with 99% of video cards (AMD RX 460/470/480/550/560/570/580/590) and is suitable for all types of memory, including Elpida, Micron, Samsung, Hynix. The program version 1.7.5 is completely free and available for download on the official website, but there is also an advanced version of it. Polaris Bios Editor PRO 3, which gives the largest increase in hashrate, but for maximum efficiency, the settings must be done manually.
What PBE can do
Bugs were fixed in the utility, timings for video cards were updated and support for a number of memory was added. The very first versions 1.4 and 1.5 are outdated for a long time, 1.6 and all of its versions may not support device identifiers and give errors, so we recommend downloading only versions 1.7 and higher.
IMPORTANT! Use only official sources to download the program. Forums and third-party resources can harm the security of your system.
Polaris Bios Editor 1.7.6 has the following functionality:
BIOS modifications to improve work with it.
Timing settings for the video card.
Access to a database of built-in timings from developers so that inexperienced miners can also effectively tune the working parameters of the video card.
The ability to quickly and easily copy timings, as well as their subsequent editing for specific requirements.
GPU voltage adjustment functions.
Remove Extra Shader Lock on AMD 480 Series GPUs.
How to use Polaris Bios Editor
Now let's move on to how to start using the functionality of the Polaris Bios Editor program.
1. Download
Download the file of the current version (blue button above).
2. Preparation
Unpack the archive to a folder on your computer.
IMPORTANT! When you make changes to the operating parameters of the BIOS of the video card, there is a possibility that the system will be unstable, and therefore it is very important to save a backup of the current configuration in order to roll back the BIOS to the basic settings. We recommend using the program GPU-Z to save settings and backup BIOS.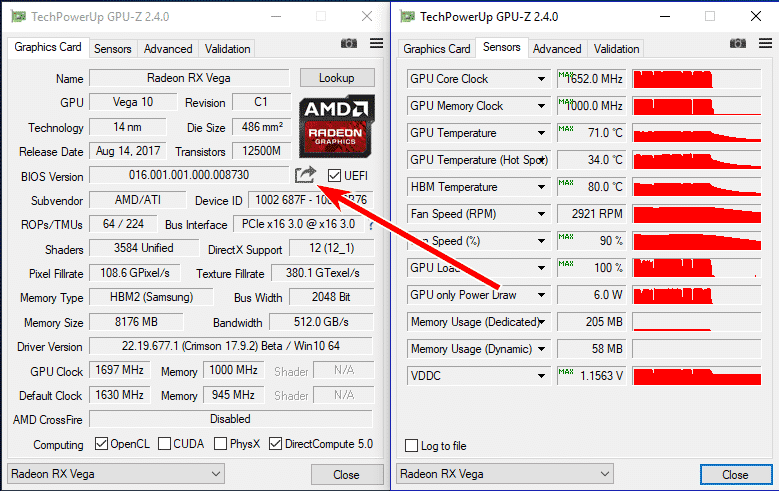 3. Setting
Open the installer file PolarisBioseditor.exe... Before starting the utility will show a window from the developers, where you need to click "OK".
After opening in the window, click OPEN BIOS (open BIOS). Open BIOS (which you saved in step 2 with GPU-Z or ATIFlash). The program will load your firmware and show the working timings of the video card (window at the bottom right).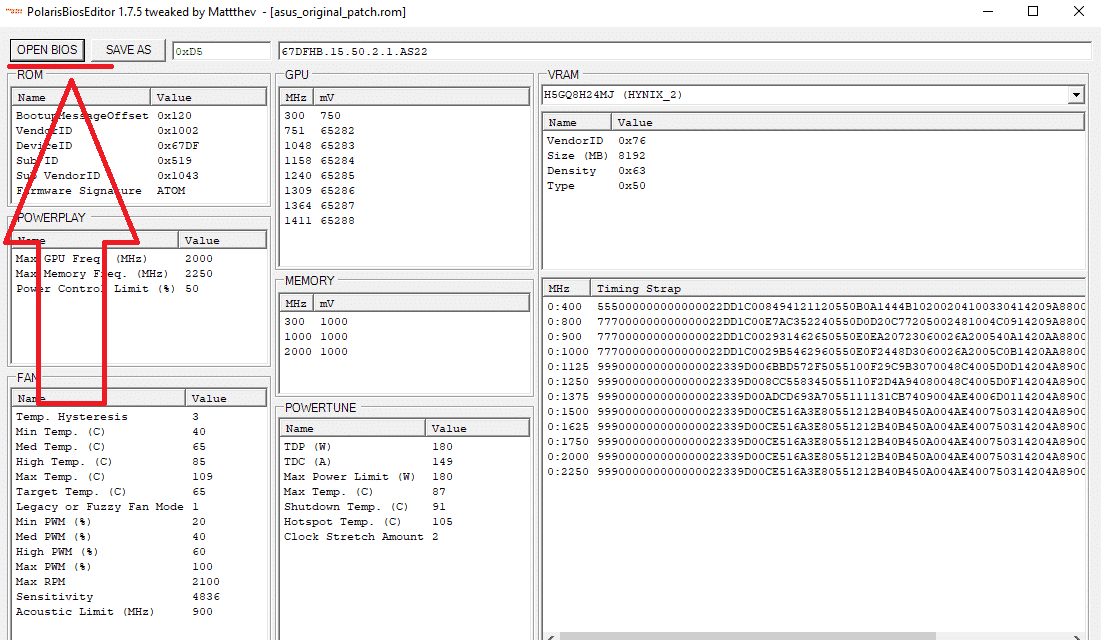 There is a button under this window "One Click Timing Patch", When pressed, the program will automatically select new timings for your GPU. In the new window, click "OK".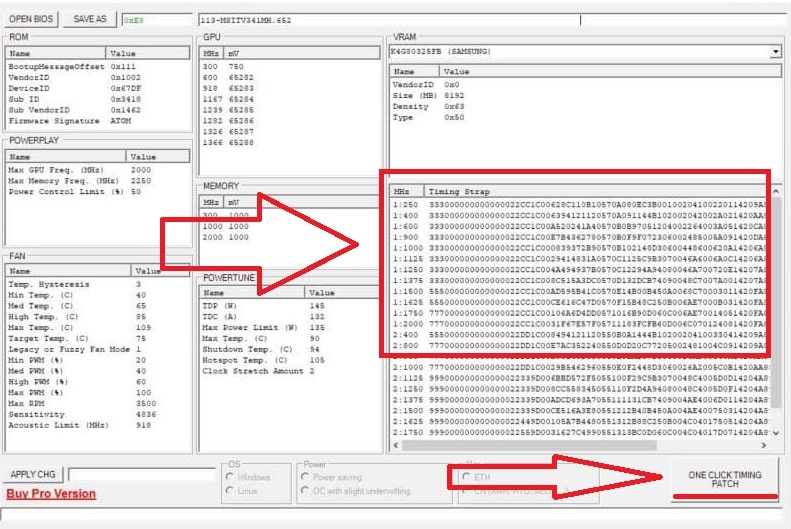 New timings for the video card have been installed.
IMPORTANT! To find out for sure if the updated configuration works, it is worth testing the system for a while. Remember and record the indicators of mining and system stability. If they do not differ from the previous ones (performance has not increased), try updating the timings again. If the system behaves unstable, try lowering the overclocking.
For advanced users, there are GPU and Memory fields where advanced settings (manual) are available. If knowledge and skills are not enough, then it is better not to touch these settings, otherwise you risk simply burning the system. These settings are responsible for powering the core and memory at different frequencies and their permissible temperatures.
4. Conservation
You can save each new file of updated BIOS settings, and then use them as needed (you can store several different files).
With Polaris Bios Editor (PBE), you get the best performance possible without having to tinker with complicated graphics settings.
Next, you need to patch the system using Atikmdag patcherif you haven't done so already to remove driver restrictions
Flash the BIOS into the video card using the utility ATIFlash/ATI WinFlash
To further adjust the overclocking of the video card, we recommend using overdriven tool or MSI Afterburner
Video instructions: