Disclaimer: Withdrawals on the FTX crypto exchange are currently suspended. This is an ongoing article that will be continually updated to reflect new information.
Introduction
FTT is a token used on FTX, the global centralized cryptocurrency derivatives exchange. FTT is often referred to as the "backbone" of the FTX exchange and provides many benefits to its holders.
The terms "FTX" and "FTT" are sometimes used interchangeably. By holding FTT tokens, you get lower trading fees and access to many benefits on the FTX exchange. You can also use your tokens as collateral for derivatives trading.
Previously, the cryptocurrency space took notice of FTX because its value skyrocketed in a short amount of time. From less than $4 in December 2020, FTT skyrocketed to a high of $85 in September 2021 before dropping to $2 in November 2022. As of November 9, 2022, the FTT token is currently trading at around $6 and is highly volatile. Similarly, the market value of FTX rose from $400 million to $9 billion over the same period, but then fell back to $312 million.
The growth of FTX is no accident. Analysts believe that rising publicity, strong partnerships, and the launch of new protocols on the FTX exchange have fueled the success of the FTT token, and expect the FTT price trend to continue if the exchange continues to rise over time.
However, in November 2022, Alameda Research's balance sheet was leaked by CoinDesk to heighten concerns about FTX's solvency. On November 8, FTX faced a banking crisis. FTX has suspended withdrawals and has turned to Binance for help to cover the liquidity gap. However, on November 10, it became known that Binance abandoned the deal to acquire FTX.com.
We bring to your attention an overview of FTX and its FTT token.
What is the FTX exchange?
FTX is a centralized cryptocurrency exchange headquartered in the Bahamas. It was founded by Alameda Research and Sam Bankman-Fried. In early 2022, the platform had over a million registered users, billions of dollars in daily trading volume, and users could trade innovative derivative products, many of which were expected to set precedents for the future of cryptocurrency trading. However, as noted above, FTX suspended user withdrawals on November 8, 2022 due to a liquidity crunch and the situation is still being updated.
Since CEO Sam Bankman-Fried launched the platform in 2019, FTX has received funding from leading trading firms. It presents a lot of traded instruments. Here are some examples:
Futures: FTX supports futures contracts for over 80 cryptocurrencies, including many lesser known ones. At the moment, no other cryptocurrency platform has come close to this figure.
Perpetual Futures: FTX offers traders the opportunity to invest in perpetual futures that do not expire.
Options: On the FTX exchange, you can select the desired option and get an offer to trade it in just 10 seconds. You are not required to accept the offer if you do not want to trade.
Prediction Market: The FTX market allows traders to bet on real events such as the US presidential election.
Tokenized Assets: FTX offers derivative products that track the prices of popular stocks, including foreign currency futures contracts.
Outstanding performance
FTX is also popular among investors because it is trying to solve problems that have not been solved by other crypto exchanges. For example, it is the first crypto exchange to make derivatives trading easy.
Prior to FTX, liquidity was a major issue for most cryptocurrency exchanges because it was difficult for traders to get in and out at the price they wanted. However, FTX ensures that traders can always enjoy a high level of liquidity. According to CoinMarketCap, FTX is the XNUMXth most liquid exchange in the world after Binance, Coinbase and Kraken.
FTX has also reduced the chance of a refund often reported by exchanges. Refunds occur when money is taken from investors to pay for an investor's bankruptcy. Since you cannot return assets from outside the system, the exchange must pool its investors' money. This rarely happens with FTX, as it uses a complex algorithm that liquidates positions gradually without dropping its net asset value below zero.
What is FTT?
FTT is one of the many innovative products listed on the FTX exchange, and perhaps the most important. Like other popular instruments such as Bitcoin, FTT has value, can be traded, and is used for financial transactions.
Sometimes experts also refer to FTT as "one of the ERC20 tokens". ERC20 tokens are digital coins that do not operate on their own blockchain: they are issued on the Ethereum network. Short for "Ethereum Request for Comments, number 20", the classification defines the technical standards for tokens that must be stored in a compatible wallet. Luckily, ERC20 is so popular that you are unlikely to have any trouble using FTT.
To maintain the value of FTT, the FTX exchange regularly buys back and burns its tokens. To do this, she buys FTX tokens for 33% of the trading fees generated on her platform, including 10% of the backup fund and 5% of miscellaneous fees.
Benefits of FTT tokens
One of the main benefits of using FTT is getting a discount on trading fees. Not only do you pay lower fees for crypto futures, but you also get tighter spreads. For active traders on the FTX exchange, the difference can be as high as 60%. In addition, traders can use FTT as collateral for future positions.
Using FTT can also protect traders from refunds as it provides insurance coverage. During volatile markets, insurance provides a net win that gives traders the opportunity to continue trading without triggering margin calls. Insurance is very useful when using leveraged tokens that can be created (with FTT) to take positions where profits and losses are multiplied.
FTT also allows for staking, a process that allows holders of FTT exchange tokens to confirm a trade. Stacking FTT provides many benefits. For example, traders can receive additional discounts as well as spin the non-volatile prize wheel to win free NFTs. In addition, they are eligible for free ERC20 withdrawals, which can be useful during periods of ETH congestion. Other benefits include increased remuneration for airdropAirdrop is a type of marketing strategy that involves sending multiple tokens or coins to crypto wallet addresses in exchange for completing small tasks, such as posting a message on social media. This is usually done to raise awareness..., bonus votes and IEO tickets.
In terms of value accumulation, one third of FTX trading revenue is used to buy and burn FTT inventory, so as trading revenue grows, intrinsic value is created and increases market capitalization FTT token.
How does the FTX platform work?
Like any other major crypto exchange, people can trade cryptocurrencies and other financial instruments on the FTX platform. It provides a user-friendly interface that is robust enough for institutional traders, yet intuitive enough for beginners. In addition to accessing FTX through the website, you can also download the FTX App on devices such as mobile phones.
To comply with the requirements of international regulators, the FTX exchange offers two separate platforms: one for international users and the other for US residents. The main platform is available to users outside of the US, while the newly created US-based platform offers services to US residents with a limited selection of coins and features available. The company recently partnered with LedgerX LLC to improve its US offerings.
The main interface of FTX allows users to select different instruments for trading. It allows users to trade stocks, forex and traditional markets. If necessary, you can use FTX Pay to receive payments in fiat or cryptocurrency.
Registering with FTX is very convenient. You simply complete a basic profile and verify your identity. Once verification is complete, you can deposit fiat using methods such as ACH bank transfer, credit card, digital wallet, or bank transfer. After depositing money, FTX's user-friendly interface makes it easy to exchange one coin or fiat currency for another.
Key Features of the FTX Platform
According to the official FTX website, the platform is "built by traders for traders". The idea seems to have caught on as FTX has quickly become one of the best cryptocurrency platforms in the world.
To attract new users, the exchange has simplified the registration process. Anyone can register an account using their personal email address. Participants receive additional privileges for passing the first level KYC verification, after which the platform provides instant access to almost all available functions.
Listed below are just some of the popular trading attributes that are likely to attract derivatives traders:
The platform supports leveraged tokens. You can easily apply leverage up to 101 times the original value. In other words, a 1% price change can lead to a 100% increase in profits.
FTX offers over 130 cryptocurrencies.
The platform's prediction market allows traders to speculate on real-time events.
FTX offers perpetual futures that do not have a specific expiration date. Instead, traders can hold the asset indefinitely without having to roll over the contract.
Apart from trading opportunities, here is an overview of other notable benefits:
Low trading commission: The trading fee starts at just 0,10%. Traders can lower the price even further by using FTX tokens.
Earn Interest: Staking with FTX allows account holders to earn up to 8% interest. You can withdraw your stake from crypto coins for a fee or for free with a 14-day waiting period.
Advanced order types: FTX offers many advanced order types to protect your account. These include stop loss, trailing stop and take profit limit orders.
Charity Funding: When you trade on FTX, 1% of the commission is donated to charity.
Pros and cons of the FTX exchange
Since its inception in 2019, FTX has become a force to be reckoned with. According to Forbes, one of its founders, Sam Bankman-Fried, is the richest person in cryptocurrency.
Pros
Unique derivatives instruments: FTX is primarily a cryptocurrency derivatives platform. It differs from its competitors in that it offers a wide range of derivatives and trading conditions, some of which are not found anywhere else.
Convenient interface: Unlike other major cryptocurrency platforms, there is no learning curve on FTX. With simple and clear features, new traders will feel right at home.
Global coverage: With just an internet connection, anyone can easily open an account with FTX and start trading within minutes.
Wide range of cryptocurrencies: Although FTX did not start with a large number of cryptocurrencies, as they did Polkadot, Stellar and Cardano, they have expanded their list of spots over time and now support a wide range of cryptocurrencies.
Cons
Suspended Withdrawals: As of now, the FTX exchange is potentially insolvent following the November 8 bank round. Withdrawals are suspended and users cannot withdraw their funds.
High withdrawal fees: Despite the low trading fees, unless the user has placed an FTT bet, withdrawals of less than $10 will incur an additional $000 withdrawal fee from you during congestion periods. This is an expensive undertaking compared to other cryptocurrency trading platforms of a similar size.
Limited Services: Due to local regulations, US residents cannot trade on FTX.com. To make up for this loss, FTX offers a limited range of derivatives on its FTX US platform. The company is already partnering with LedgerX to provide more opportunities for US traders.
What happened to the FTX exchange?
November 2, 2022 CoinDesk опубликовал a document claiming to be the balance sheet of Alameda Research, a hedge fund that trades cryptocurrencies. It found assets worth $14,6 billion, some of which was mixed with FTX, although the two entities are allegedly separate. Specifically, $5,8 billion of the $14,6 billion is rumored to be in FTX's own token, FTT.
FTT was also sold to Alameda Research at a very low price early on. When FTX artificially inflates the value of FTT, Alameda may use FTT as collateral on FTX to borrow other assets from FTX customer deposits.
However, Alameda held most of the FTT circulating supply and the FTT token had low circulating liquidity. Therefore, Alameda would not be able to sell all of its FTTs as there would not be sufficient liquidity or buyers. This was not usually a problem since Alameda controlled most of the supply. However, Changpeng Zhao ("CZ"), CEO of Binance, has announced that he is selling all of Binance's FTT assets worth over $500 million.
Alameda's CEO offered to buy all of Binance's FTTs at $22, raising suspicions that the FTT's value was largely used as collateral for loans to other assets - and that further price drops could lead to liquidation of their loans.
Panic set in when CZ rejected the offer, causing the price of FTT to eventually break below $22, precipitating the bank run from FTX. This ultimately resulted in the remaining users being unable to withdraw their assets from FTX as they were lent to Alameda - which is now insolvent as Alameda was also borrowing from other lenders.
The FTX exchange now owes billions, and while it was reported on Nov. 9 that Binance planned to acquire FTX, the latest news on Nov. 10 showed that Binance's CZ ultimately decided against the potential buyout. FTX user funds are likely to be lost, but details are yet to be finalized.
FTT Tokenomics
All data was recorded at the time of writing.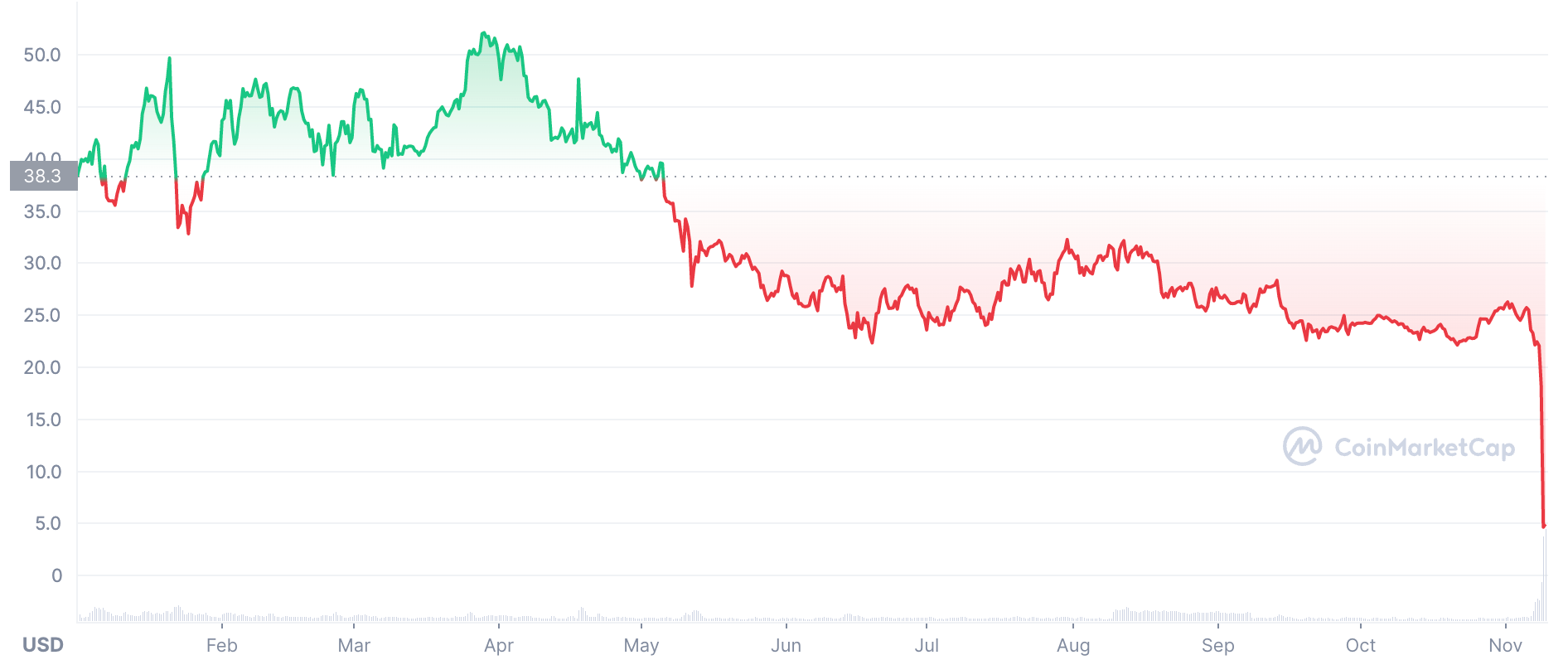 Price: As of November 2022, FTT's price range is $2 to $6. It previously hit an all-time high of $85 before dropping more than 90% to its current price. The sudden drop from $22 to $6 was triggered by news of FTX's insolvency and its inability to return customer funds.
Market capitalization: According to independent sources, market capitalization of the FTT token fell from a high of $9 billion to $312 million.
Round-the-clock trading volume: The daily trading volume of the FTX token is $3,4 billion. This volume has increased dramatically due to unexpected news, which has led to extreme volatility in FTT.
Circulation of coins: The total number of FTT coins is estimated to be around 329 million. At the time of this writing, there are 133 million FTT tokens in circulation.
Is FTX (FTT Cryptocurrency) a Good Investment?
Given the recent bankruptcy of the FTX exchange and the amount of debt, investing in FTT is highly speculative and therefore risky.
Due to the current volatility, experts predict that FTT is likely to reach new lows in the future. For example, analysts and the WalletInvestor algorithm predict that FTT could fall below the $3 mark within a few years. If the issues around FTX are not resolved quickly, FTT may continue to decline in the long term. You can even expect the price of FTT to drop below $2025 by 2.
The short-term outlook for FTT is also not positive, with most experts predicting that FTT will offer poor ROI in the coming year due to reputational damage caused by bank failures.
Сonclusion
Despite FTX's innovative lineup and "first mover" advantage as a pioneering leveraged trading platform, they eventually became insolvent due to leverage before they had a chance to become the largest exchange. If crypto exchanges want to continue to grow and serve the crypto community, in addition to having to reinvent their offerings to comply with local/global regulations and be innovative, they need to become more transparent and, according to CZ, need to issue merkle tree proof of reserves to regain user trust.
Moreover, crypto traders and investors should not blindly trust centralized exchanges. It will take time for many cryptocurrency users to adopt a "trust but verify" approach when dealing with centralized organizations. Ironically, the fall of FTX due to centralization and opaque activity further highlights the need for true decentralized finance (DeFi) that offers permissionless, transparent, and self-sustaining solutions for cryptocurrencies.